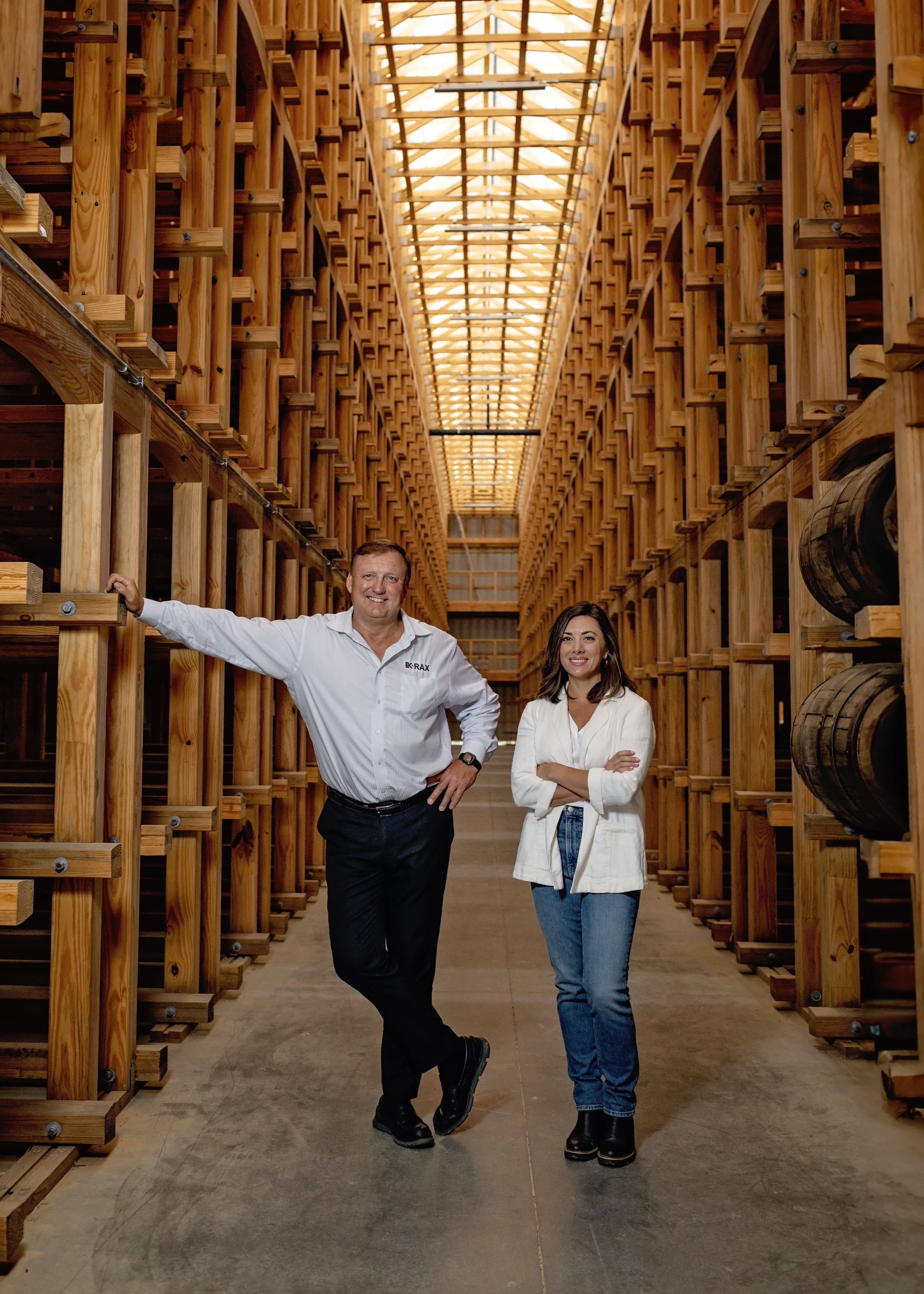 Shelbyville, KY | 08/07/2023. The Koetter Group (Floyds Knobs, IN) and The Spirits Group (Louisville, KY) announce their collaboration on The Blending House® development, a 108-acre project at 1917 Vigo Road in Shelby County, Kentucky. The Blending House will showcase The Koetter Group's innovative K-RAX® Premium Barrel Storage solution and serve as a storage facility for select groups and brand home for The Spirits Group clients. "We are delighted that the Koetter Group has chosen to bring this $44,000,000 investment to Shelby County, as we continue to make Shelby County a premiere Kentucky Bourbon destination," said Judge/Executive Dan Ison.
The Blending House development will include seven (7) K-RAX premium rickhouses, each with a capacity of 20,000 barrels. Construction of the first rickhouse is complete, with completion of the second planned for September 2023, and the third for February 2024. Along with the 7 rickhouses, the joint venture will build a 30,000 square foot blending and bottling facility to be in operation by Fall 2024.
K-RAX Premium Barrel Storage System was developed by The Koetter group when asked by several distilleries to help them create an innovative way to store and age premium spirits. "Our K-RAX facilities are built with laminated southern yellow pine, then run through CNC milling machines for accuracy and precision of parts. With all parts precut and machined within 1,000th of an inch, it makes assembly easy and fast. K-RAX is focused on operational safety enhancements and providing improved structural integrity and improved airflow" said Bob Koetter, CEO of The Koetter Group. "We are excited to come together with Monica, and The Spirits Group, on this project and see our vision come to life."
The Spirits Group develops strategic and financial pro forma plans, brokers bulk whiskey, and creates whiskey blends for clients. "The Blending House development will be a showroom for the K-RAX rickhouses, provide a home base for our core clients and supply third-party storage for other non-distilling producers (NDPs)" said Monica Wolf, Managing Partner of The Spirits Group. "We are thrilled to be at this location and thank Shelby County and Judge Ison for their support."
In addition to storage for The Spirits Group brands, The Blending House will offer third-party premium barrel storage to select clients with high volume needs. For inquiries on available space for lease, please go to http://www.theblendinghouse.com/barrel-storage.